Rhinoplasty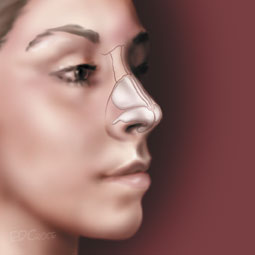 Rhinoplasty is the term given to an operation to alter the shape and function of the nose.
Properly performed it can alter the size and symmetry of the nose, and accentuate aesthetically desirable units. It can be performed in combination with surgery to open up the nasal passages such as straightening of the septum (septoplasty), or enhancing the support of the nostrils to improve airflow characteristics (alar valve surgery).
Realistic expectations can usually be obtained by careful analysis, and meticulous directed surgery to the airflow compromised areas. Realistic outcomes always require careful discussion between expected and likely results.
The Surgery
The procedure can be completed by closed (all incisions placed within the nostril area) or open (incisions placed in that area above the middle of the upper lip).
Surgery typically requires 1 to 3 hours under general anaesthesia, and 1 night in hospital. Most patients require 1 to 2 weeks off work.
Small imperfections may require subsequent procedures to correct; a minor revision surgery is required in about 5% of cases.
Instructions for Surgery for Rhinoplasty
You may also refer to the Preparing for Surgery patient information sheet.
FASTING: (food & liquid) from midnight for a morning operation and from 7.30am for an afternoon operation, a light breakfast of tea and toast is OK prior to 7.30am.? Children under 14 may have clear fluids only up until 10.30am, (NO MILK) but definitely nothing after 10.30am.
FORMS: Hospital admission forms and anaesthetic forms should be completed and returned to the hospital at least 3 days prior to the date of your operation.? If you have any queries regarding your operation please do not hesitate to contact Dr Nicholson's rooms.
No Aspirin Or Aspirin Containing Pain Killers To Be Taken 2 Weeks Prior To Surgery????
Post Operative Care for Rhinoplasty
Rest at home for 5 -10 days.? This reduces the risk of infection and bleeding.
Do not attempt to blow the nose forcibly until you have seen Dr Nicholson following surgery.? The nose will drip for about 10 days and usually remains blocked for 10 days or longer.
Expect blood stained mucus and old blood from the nose for the first 10 days.
Brisk bleeding, fever or increased pain should be reported to Dr Nicholson immediately.
A small gauze dressing under the nose will absorb excess mucus.
Pain and headache - if not eased by simple relievers such as paracetamol or codeine, seek medical advice.
Dissolve 1 desert spoon full of bicarbonate soda in 1 pint of water.? Allow to cool until tepid.? Fill a glass to the brim, and then gently suck this fluid into the nose.? This will help clear old blood.? Do this in the second postoperative week.
*These notes are an outline only and should be expanded on in discussion with Dr Nicholson.
Illustration Credit: Royal Australasian College of Surgeons & Mi-tec.
The complete College patient education pamphlet is available from your surgeon.